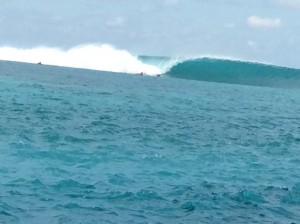 We're right in the middle of the Tradewinds season and true as they are it's offshore all day here in Nemberala.
Waves have been consistent so far in July averaging around the head high range, with the odd bigger day.
The forecast for the next seven days is looking very promising, with a strong sw swell due to start filling in from tomorrow.
We should start seeing wave heights increasing progressively up until Sunday when the swell is due to peak.
The wave models are predicting wave heights in the triple head high range.
This is sure to keep the big wave chargers happy.
Other surf spots on Rote and the offshore islands should also light up on the swell, so those with access to a good boat and the knowledge of when to hit these spots, should find plenty of barrels on offer.
If you have the time, and the weather is cold where ever you are , now is a good time to come to Rote and enjoy the warm water and great sunny weather here.